HEY HEY
I'm Tré. Tré Calhoun.
I am a playwright, TV and screenwriter.
A third-year MFA candidate in Playwriting at Columbia University School of the Arts.
Current residence: New York.
BA, MEng in Computer Science: Cornell University.
I write fun, social justice dramas that explore the everyday, escapism, and tragedy; spectacles that embrace "liveness" with curiosity around healing the Millennial generation and preparing for the future.
Fear & Suspense, Superheroes, Mystery, Time Fragments, Dance, Romance, LGBTQ, Hip Hop, Absurdism, and more.
I also act. You can find information on my plays and acting experience on this website.
pronouns: he/him/his
up next:
...enough


A play in one act

He's gonna be good enough if it's the last thing he does… and it might be.

Fynn, a successful black man, ropes his white childhood friends into a martyrdom ploy against the police. This genre-bending thriller asks: what people need to be sacrificed to find peace in the heart and in the world?

Columbia Thesis Presentation, August 11-13, 2022: Tickets
If you like me at my worst


A play in one act

When Miles brings Jake, an attractive and depressed homeless man, into his home, he discovers Jake has a special power of swapping bodies. As Miles lives in and out of this older white man's frame, he learns how to look beyond the body – Jake's body as well as his own – in order to appreciate the consciousness within.

Columbia Second-Year Presentation, October 2021.

Recording (after you log in, click this link again).
Tattoo Lives


A play in ten minutes

Published in Northwest Playwrights Alliance's anthology: Three Scenes on the Future of Squirrels & Other Post-Pandemic Plays.
Short Lives


A play in ten minutes

A consul visits eager new parents hoping to enter a new country. But before the consul arrives, they must determine how to prove they're worthy of life.

As part of Northwest Playwrights Alliance and University of Idaho's NorthNorthwest, the play received readings at the Seattle Repertory Theatre, University of Idaho, and other regional locations Fall 2019 and was published within a collection.
Hand


A play in one act

A new pay about love and betrayal when you don't have a home. When you've lost everything in your life, people become more important than ever. They'll give you a hand in life or take it from you.

Commissioned by Mirror Stage as part of "Expand Upon: Homelessness," "Hand" premiered October 2019.

Podcast with Mirror Stage.
25–35


A solo rap musical in one act

Who will step forward...

Ever feel like everything is possible and nothing at all? Brayton does. He's 25, his best friend just got married, and now he's alone. Primed for a new adventure, Brayton travels across the U.S. over 10 winters yearning for a reason to stop running. Journeying through fake friends, lost pets, love battles, and technology of the future, "25–35" bravely tears into the taboo subject of loneliness that plagues Americans, particularly men. Before he steps out on the ice, Brayton must decide how much of himself he can give to others—in this rap musical with one performer.

Music, Lyrics, Book, & Performance by Tré Calhoun. First recording on SoundCloud

"25–35" premiered at Theatre Off Jackson January 2019.
Superpowers


A play in two acts

Alex sits on top of the world after graduating as a social scientist, freed from the failures of his past. Then his girlfriend dies after he drunkenly feeds her poison oak, and a demon begins to haunt him. As Alex spirals downward, he assembles a crew of friends to accompany him on a high-stakes quest for liberation. But Alex isn't the only one dealing with a demon. Will his friends' secrets doom the mission? Is there a superpower that can eradicate fear and shame?

"Superpowers" premiered with a Parley workshop production on October 9, 2018.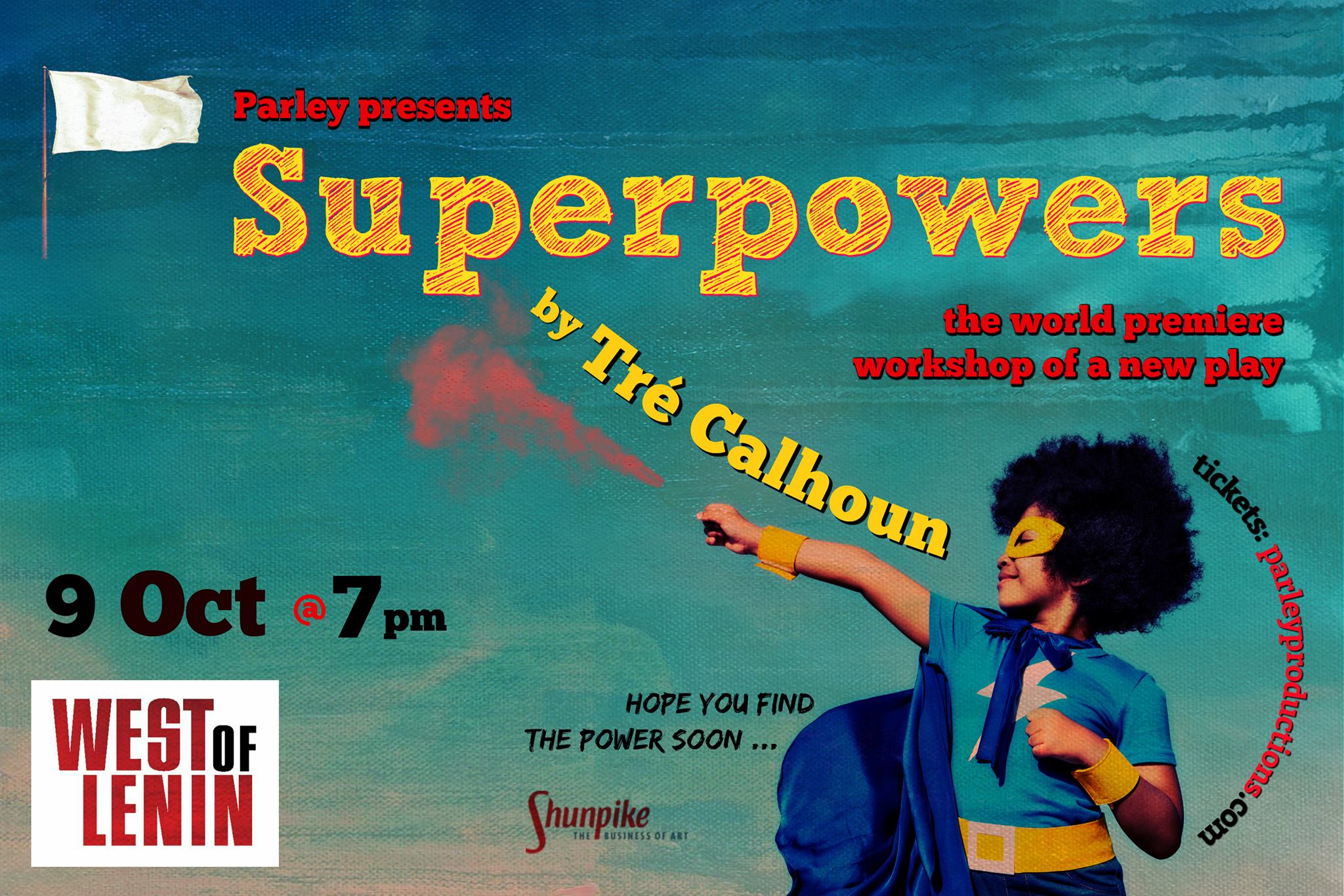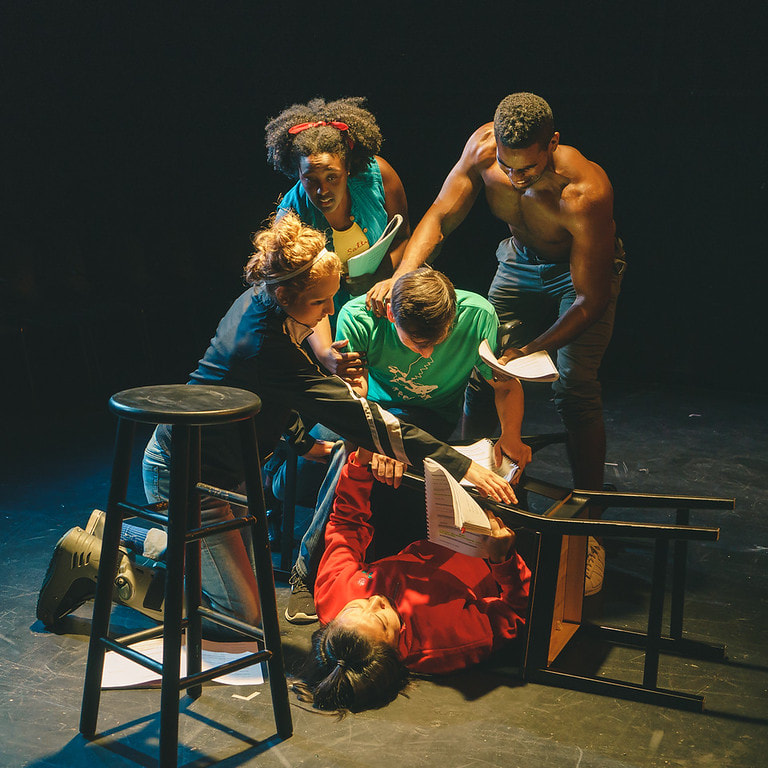 The Other Town


A play in two acts

Dec has a unique power: he can swap places with himself 30 years in the future. But as his idealism combats an eerie feeling that his wife is cheating on him, Dec finds himself lost in the ambiguities of present and future society—and lost between his half black/half white ethnicity. Dec must wake up and regain his stability before society cheats him too, in this Our Town-inspired play of tomorrow.

"The Other Town" premiered with a Parley workshop production on August 15, 2017.
American Archipelago


A play in two acts

Welcome to a quaint little neighborhood called the United States of America. Upscale and working class, where suburban streets wind through packed city blocks, this neighborhood feels like a community - and a powder keg. The collage of stories examines the daily joys and heartaches of being an American today.

"American Archipelago" was the joint writing effort of Holly Arsenault, Kelleen C. Blachard, Tré Calhoun, Vincent Delaney, Brendan Healy, Maggie Lee, Sara Porkalob, and Seayoung Yim. It premiered with Pony World Theatre at 12th Ave Arts from July 12 - August 12, 2017.
The Black Eye Society: A Cycle


Short plays and music in one act

Some are lucky enough to find Happily Ever After. For everyone else, there's THE BLACK EYE SOCIETY. This cycle of short, perilous plays explores the damaged relationships of good-natured people. With bruised eyes, it's tough to see when others are hurting too.

This cycle contains 4 short plays, narrated with original music

"The Black Eye Society: A Cycle" premiered at Theatre4 from March 23 - April 1, 2017 as part of the Seattle Fringe Festival.
Lemonade: For Us By Us


A Beyoncé adaptation in ten minutes

Beyoncé's Lemonade visual album is a concept piece about infidelity and being black in America. But is there more to it? How do these two elements intersect?

"Lemonade: For Us By Us" examines a failing amorous relationship and a failing relationship with one's nation—and asks, "How much abuse does it take to realize your union isn't good enough?"

"Lemonade: For Us By Us" premiered in Parley Productions' Short Shorts Festival December 2016 at 12th Ave Arts.
Building and Removing Planes


A play in ten minutes

Timid Lani wants to start something new with Nick, who is preoccupied with death in his personal life. Will the two ever find real connection, as they interact with one another as avatars in a video game world?

"Building and Removing Planes" premiered at Midnight Sun from October 2016 as part of the the IPOP Festival with Theater Artists Olympia.
Dirt + Dew


A play in one act

College-dropout John masks himself in mud to court Harvard-grad Memory—but no one told him that his new friend is hiding a dark secret… As tales of sasquatches are told and someone exercises nearby, we start to think: what are these Millennials doing in the woods alone? And will they make it out alive?

"Dirt + Dew" premiered at Eclectic Theater from February 26 - March 5, 2016 as part of the Seattle Fringe Festival.

"Dirt + Dew" has been remodeled into a two-act play, titled: "Reason's Fear."
Please contact me if you are interested in working with me or producing one of my plays.
Email: tre.calhoun64 at gmail dot com
Select images. For more roles, visit my résumé here.
HURRICANE

by Jacob Sexton

Nickolas | Columbia University, NY (2021)
A CIVIL WAR CHRISTMAS (AN AMERICAN MUSICAL CELEBRATION)

by Paula Vogel

Walker Lewis, Frederick Wormley | Taproot Theatre, WA (2017)
EVERY FIVE MINUTES

by Linda McLean

Harpo | Washington Theatre Ensemble, 12th Ave Arts, WA (2017)
THE WEDDING GIFT

by Chisa Hutchinson

Beshrum | Forward Flux Productions, Gay City Arts, WA (2016)
THE BROTHERS K: PARTS I & II

adaptation of book by David James Duncan

Bork / Robbie | Book-It Repertory Theatre, Center Theatre, WA (2016)
WITNESS FOR THE PROSECUTION

by Agatha Christie

Leonard Vole | Little Theatre Off Broadway, OH (2015)
A PEOPLE

by Lauren Feldman

Daniel / Heschel / Bride | Cornell Schwartz Center, Mainstage, NY (2013)
NO EXIT

by Jean-Paul Sartre

Cradeau Doppelganger | Cornell Schwartz Center, Mainstage, NY (2011)
THOSE LEARNED LADIES

by Molière

Notary | Cornell Schwartz Center, Mainstage, NY (2011)